In all likelihood, your child is a little ball of energy. It's pretty amazing to see them running around all day and yet still be full of vigor. To be honest, we're a little jealous! Full Circle Martial Arts Academy is here to help have them get this energy out in a productive and healthy way through our variety of martial arts classes and programs for kids in the Capitol Heights area. From our Little Ninjas program to youth Kung Fu, you can rest assured that your child will not only be partaking in a healthy activity, but also learning incredibly important life skills through our self-defense classes. They'll also be having the time of their lives! 
Unfortunately, our country is going through some tough times right now concerning illnesses, and have all been advised to avoid social gatherings and more. While you can always trust in our martial arts academy staff to do anything that we can to help, we know that you are likely bunkered in at home for the moment. This means that your little one is likely jumping off the walls. Don't worry, we're here to offer you some ideas in order to keep them healthy and active during these times! If you have any questions about our self-defense classes or planning on enrolling them (or yourself), then go ahead and contact us today.
Let Them Show You What They've Learned in Class
If your child has already taken a self-defense class with us, well, let them show you their skills and some of the practices that we follow! It is important for them to stay up with their lessons, and we promise you that you will have a blast watching them as well as learning from them. Have them take you through a day at our martial arts center and teach you a few different moves. You won't regret it.
Keep Their Minds Active
Martial arts isn't all about learning how to defend yourself, it also encourages you to keep your mind alert and use self-discipline. While it is very important to keep them moving around, you also need to keep their minds active! We know that kids these days love their tablets and hunkering down in front of the TV, but we suggest avoiding this! There are a variety of games that you can play that will keep them learning, alert, and having a good time! This could be as simple as completing a puzzle together, reading a book, or even role-playing. Pretend that you are a criminal on the prowl and they are a little ninja there to stop you.
Teach Them About Healthy Eating
It is so important to teach your children about living an active lifestyle at an early age so that they continue living healthy when they grow up. While exercise is an incredibly big factor in this, you also need to let them know the importance of healthy eating, especially these days. Yes, they do deserve a special treat or some chicken nuggets from time to time, you want to be sure that this doesn't become a habit and they, in turn, refuse eating anything else. This can be tricky sometimes, but we know there will be healthy foods that they will love once they try it! Tell them about why they need the right nutrients, and make it fun by having them cook with you or put some snacks together. This will work much better than just placing a plate of vegetables in front of them.
Play Some Fun, Active Games
Keep them moving and grooving! There are so many unique and fun games that you can play, even indoors, that will keep them active. Simply having them see how many jumping jacks that they can do in a minute is great for their health. We also suggest playing classic games like Duck, Duck, Goose! or musical chairs.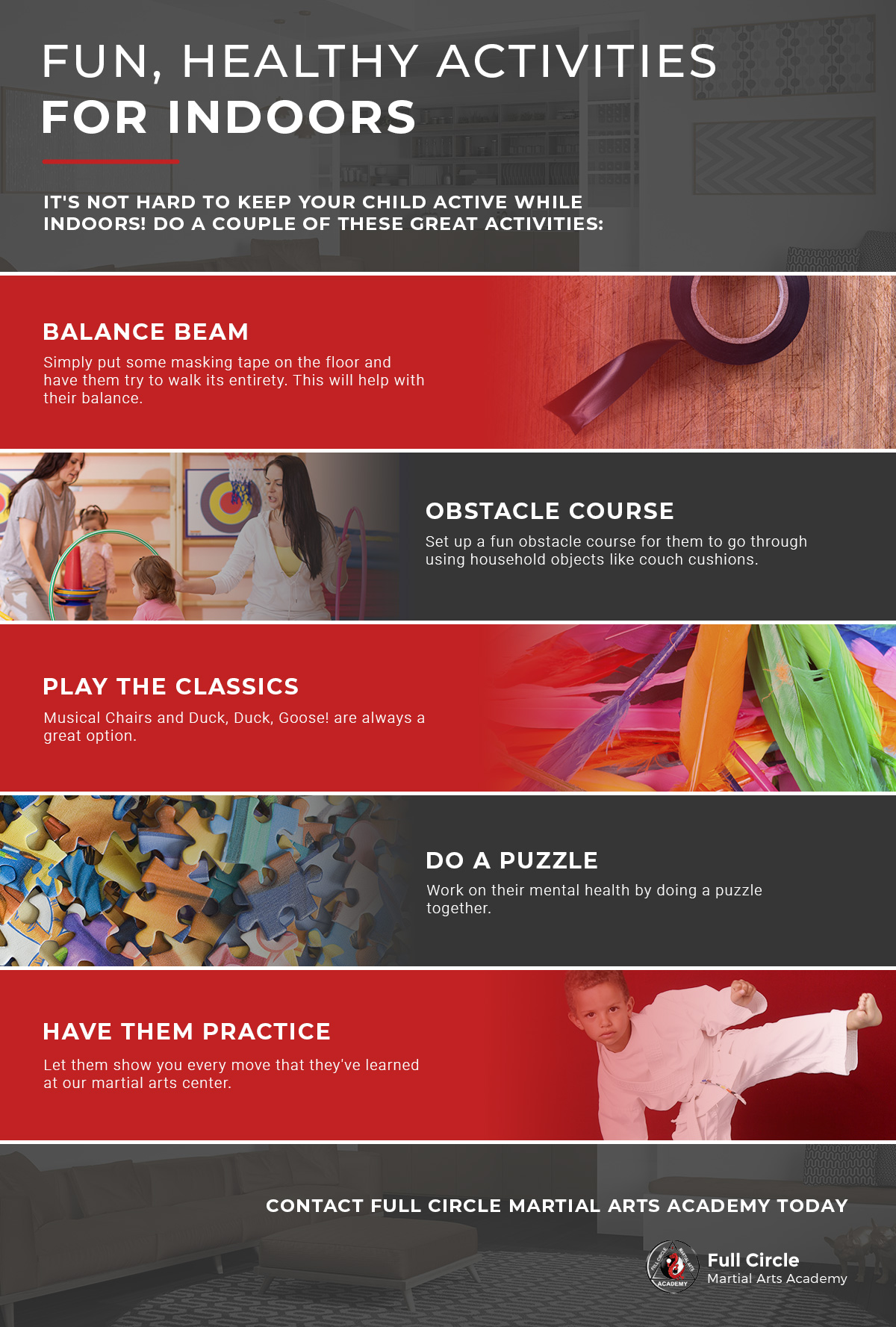 Get Some Fresh Air
While it is very important for you and your loved ones to stay home during this time, that doesn't mean that you shouldn't be able to enjoy the sun's rays or some nice fresh air! Just stay together and don't go to public areas. This is incredibly easy to do, especially if you have a yard! Play a little game of football or have them practice their Kung Fu moves outdoors. Don't restrict yourself to the indoors.
Reach Out to Us!
If you still can't figure exactly what to do, that's no problem, we are always here to help. Just simply contact us and we will provide you with self-defense exercises and a few other lessons that you can do from home. If you have any questions or are curious about enrolling your child at Full Circle Martial Arts Academy in Capitol Hills, then go ahead and reach out to us today.